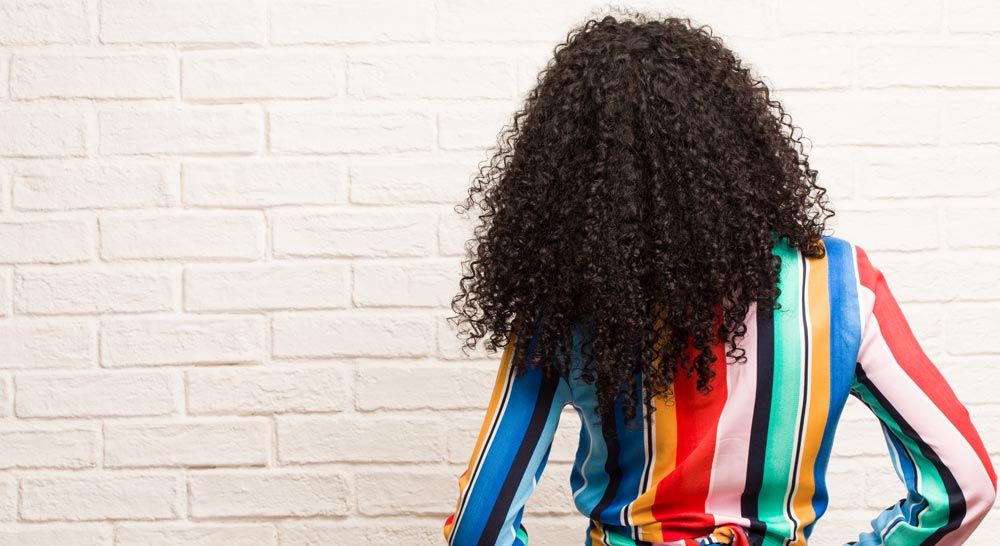 From Relaxed To Natural: Learning How To Define The Journey For Yourself
I can't pinpoint the reason why my mom decided to relax my hair.
It may have been influenced by me being, what some consider, "tender-headed" and my mom feeling like she was doing me a favor. Or, my mom maybe feeling like it was prettier to tame my hair, especially since she had a relaxer herself.
Getting relaxers was normal while I was growing up and I didn't know anyone who didn't have a relaxer who was old enough to have one.
The question of "Why?" never really crossed my mind until I was older and began to learn how damaging chemicals can be to our bodies. Honestly, I didn't make the leap from relaxed to natural because of the health risk, it was purely vanity.
When I was in my mid-twenties, my hair began to suffer from the ritual of over-processing and constant heat, and during that time, I started to notice that my hair was thinner at the top of my head. I was struggling with my length and my edges were drying out and breaking.
[perfectpullquote align="full" bordertop="false" cite="" link="" color="#066db3″ class="" size=""]So it was at that point, during the summer of 2013, I decided to stop relaxing my hair. I had no idea what I was going to do with it nor what not getting relaxers even meant for me![/perfectpullquote]
Like a lot of women, our hair is a large part of our identities and we use it as a way to express ourselves. Even something as simple as a fresh wash and flat iron lifted my spirit, and my confidence. I didn't know where I would go from that point!
Having straight hair was all I knew and I didn't know anything about curly, kinky, textured hair. Because of that, I continued to straighten my hair on a weekly basis. I thought that as long as I wasn't putting chemicals in my hair, my fullness would return and I could still enjoy the straight styles that I was used to.
[perfectpullquote align="full" bordertop="false" cite="" link="" color="#066db3″ class="" size=""]I adore how my son looks at me in awe when he sees my hair freshly done. I am honored when my friends compliment how beautiful my hair looks. I am even proud of the size of my puff on the top of my head when I just don't have the energy to do my hair that day.[/perfectpullquote]
Transitioning from straight and processed hair to natural hair was awkward and frustrating because no matter how much effort you put into your styling, it just never comes out how you expected.
I can honestly say I spent countless hours watching YouTube videos on how to get my hair to look like the girls in the tutorials. It took me a long time to understand my hair texture and tailor it to my expectations of what my hair was capable of and not expect anything else.
Fortunately, with time, I found a style that I liked rather than putting my transitioning hair in a bun or a ponytail every day. It also didn't take long to learn that wearing my hair "up" too often resulted in my hair and edges thinning.
Eventually I learned that foam rods worked best for me! Once I realized that, the key to preventing breakage was a good trim and constant moisture. I noticed the difference in my hair right away. I thought, finally, I was at a turning point in my hair journey. My hair was done transitioning and that would be how I would wear my hair forever!
[perfectpullquote align="full" bordertop="false" cite="" link="" color="#066db3″ class="" size=""]When I finally came to the point where I could enjoy my chemical free hair, I started to have fun with it! [/perfectpullquote]
I used to joke that my hair was my TRUE self. It had a mind of its own and it was free to do what it wanted. It was always something new everyday.
But over the next few more months, I noticed that my hair was continuing to change. My natural curl pattern began forming since I was finally getting rid of my heat damaged and processed strands. Once my hair was fully natural, I had to learn how to take care of it all over again.
Since my hair is tightly coiled, it requires a lot of attention. I probably tried four or five different natural hair brands and watched dozens of YouTube videos before I even noticed what I was doing wrong with my hair. I wanted to do a wash and go so badly, just to make my life easier, but it took me an entire year to find products and a routine that allowed me to do so.
This process was filled with lots of mistakes, which meant my hair ended up in either a ponytail, a bun or my new favorite, a headwrap. I wasted lot of money because I tried a lot of suggested products and tools that simply didn't work.
I even tried a hair color that was fun, but a little loud for my personality. I chose to take all of this in stride because I was confident that I was going to find exactly what would work for me. The first step was to accept that my hair was going to do what it wanted to do. My only job was to make sure that my hair was given the right products, care and support to be the best it could be, sort of like raising children.
Patience has been my best friend these past few years. I have threatened to cut off all my hair on multiple occasions (and still might do so some day), but I actually love my hair now! I have accepted that it grows up and out, and not down. My curls don't bounce when I walk and I may never get to wear a beanie or baseball cap like I used to. But, I wear my hair like a crown and my hair exemplifies what self-love looks like for me.
When my hair is out of the easy ponytail and frames my face and profile, I feel unstoppable, like I am living my truth. I. Am. proud! I love that I can cut, style and color my hair, and best of all, I know that it won't look like anyone else's.
So, my advice is to love yourself no matter the struggle! For anyone who is considering stopping relaxers or taking a break from the flat iron, you'll definitely go through a process in finding your new definition of beautiful.
Understand that your assigned grace is not the same as anyone else's, and while you can imitate the styles and products of your favorite blogger or influencer, your standard is your own.
Be patient and kind with yourself through the journey, learn from your mistakes and keep trying when it fails.
YOU are your own definition of self and no one else can create that for you!