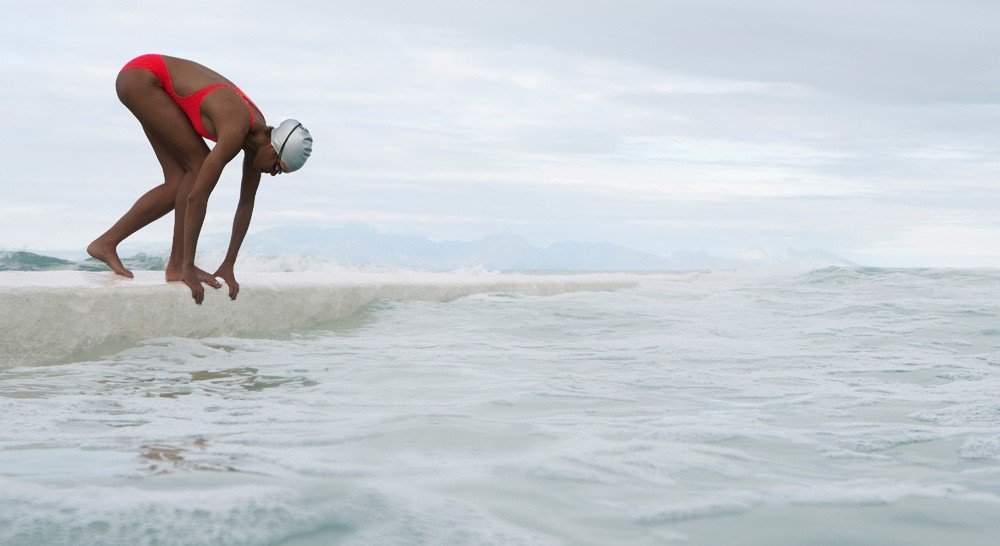 Swimming While Black
I can smell the strong scent of chlorine and feel the rubber swim cap tugging on my permed strands while waiting for the horn to sound off. Each time I reminisce on that experience, I realize how much it has shaped who I am today.
From ages nine to 11, I was a part of a swim team at the YMCA during the summer and winter seasons. I enjoyed swimming, but being the only black girl on the swim team was very challenging. My mom encouraged my participation and assumed that my neighborhood friends, who were also on the swim team with me, would keep me company and provide support. But unfortunately, that was not the case at all. While I was not the fastest swimmer, I never received support from my peers, coaches or other parents. Swim practice seemed long and grueling and at times, it felt very isolating.
[perfectpullquote align="full" bordertop="false" cite="" link="" color="#066db3″ class="" size=""]I always wondered why I did not see anyone who looked like me. I never saw a black swimmer on TV or in magazines. Why was that?[/perfectpullquote]
One of the hardest parts of swimming while young were the issues I had to deal with in maintaining my hair and skin. Since I never saw anyone that looked like me at swim practice nor on TV, I had a hard time learning how to seek advice on how to maintain my hair or skin. I never wore protective hairstyles during my years as a swimmer due to the fact that swim caps were very small and restrictive. My hair was always short and permed which caused it to not agree with the combination of chlorine and sunlight. I would always try a new shampoo to retain my strands, but nothing seemed to prevent the harsh hair damage that resulted. My skin also became very dry and scaly when I would return home from practice.
Looking back, I distinctly remember my first swim meet during the third year on the team. After I completed my laps and got out of the pool, I went to the older man who was responsible for recording my time. When I asked him for my results, he stated in a shocking tone, "This was the slowest time I have recorded all day! This is pretty bad," he said. Even though I do not remember what my actual time was, I remembered feeling a sense of frustration and disappointment. Why would someone speak that way to an 11-year old girl? I told my mom that I did not want to continue swimming and I did not pursue my third year on the summer swim team. During my time as a swimmer I had no support, no encouragement, no community, and my hair was badly damaged. Not to mention, I struggled with body image issues due to my pediatrician medically labeling me as "obese" a few months earlier.
As I grew older, I realized why I did not see many black swimmers in the media or even on my own swim team.
[perfectpullquote align="full" bordertop="false" cite="" link="" color="#066db3″ class="" size=""]The isolating treatment that I received from my team as a whole would make it hard for most people of color to freely engage and grow in this activity.[/perfectpullquote]
Additionally, I never encountered hair or skin products suitable for swimmers of color, which may also deter them from participating.
Thankfully, today there is more conversation regarding this topic. When it comes to the ability to swim, recent statistics reveal that historical discrimination and segregation created a disparity within the black community. The chlorine is also a very potent chemical that contributes to hair damage and dry skin, especially when direct sunlight is also involved.
Now that there is more of an understanding regarding this topic, more black people are creating spaces for black families. Products are also being created to protect hair and skin from the harsh effects of chlorine. In 2016, Solange was even able to have her flawless all-black female squad dive and swim in an indoor pool in her "Don't Touch My Hair" music video.
While I faced some unpleasant memories being the only black girl on the swim team, I appreciate my strength and ability to take part in such an important activity that some of my ancestors would not have been able to do so in the past.
[perfectpullquote align="full" bordertop="false" cite="" link="" color="#066db3″ class="" size=""]Joining the swim team influenced my current ability to take chances and try different activities, no matter the representation such as hiking, snorkeling, paddle boarding, and more.[/perfectpullquote]
Thanks to the multiple social media platforms that exist today such as Instagram, Tumblr and Facebook, we are able to share these activities with hundreds of people daily. Sharing these experiences is more vital than ever within the Black community. I hope that documenting these images on social media platforms will inspire people who felt as isolated as I did when I was younger. I know that whenever I am ready to put on my bathing suit and swim laps, I can do that at any time with a sense of pride and accomplishment.
And that in itself is a blessing.