What Exactly Is "Healthy Hair" Anyway?
Hello my EBAN crew! Welcome to EBAN Living's blog! The natural hair haven where you can learn about your hair and all the skills you need to live a Loud and Unapologetic Life!
My name is Bri Rhodes and I'm EBAN Living's Editor-in-Chief! I'm here to talk about relatable topics and answer all of the burning questions you may have about your BEAUTIFUL, coily, kinky, NATURAL hair!
I'll be your support system and will provide all the encouragement you'll need to flourish with your curls. I'll also share my own natural hair journey and provide tips and personal knowledge on how to maintain and grow your hair!
For the longest time, there's been a lot of talk about what makes our hair beautiful and what actually is GOOD hair, so we're going to start by tackling this concept and explore its different avenues.
So let's get started!
In today's society we live in a world where beauty standards are defined by mainstream media. You can't pick up a magazine or watch a TV show without the world telling you what is and isn't beautiful. Whether it's perfectly flowing straight hair, a non-existent waistline or simply having TOO much money, us ladies are constantly faced with phony images of what is and is not beautiful.
Well, here at EBAN, we define beauty as "strong and healthy." Whether it's strong and healthy bodies, minds or HAIR!
We understand that we all attempt to live up to certain standards (to some degree), but can we agree that we should aspire to only live up to healthy standards?
So what exactly are healthy standards? We see our favorite entertainers selling their definitions of body and hair beauty, but what does that mean for us non-celebrities?
Personally, growing up I caught myself trying to make myself "beautiful" based off society's definitions.
I went to the extent of caking makeup on my face and spending tons of money on my nails and hair. When it came down to hair especially, I was willing to do whatever it took to hide my natural curls under weaves and also enduring the excruciating pain of relaxers.
What I actually learned was that trying to live up to the hype was so overrated. Especially since I don't have a publicist, a designer or a stylist to get me ready for the world each day (I'm sure plenty of y'all can relate). So I thought to myself, what can I do to create MY version of glamorous?
That's when I decided to start my natural hair journey, which turned out to be the most liberating and freeing experience I've encountered in my 26 years of living on this earth!
I began living up to my own standards so much so that my journey spilled over into becoming more conscious and more enlightened.
As it began to grow, I realized my hair was becoming a physical symbol of my own inner growth. I became my own hair and life goals.
When it comes to hair in particular, consumers traditionally try their best to live up to their favorite celebrity's luxurious red carpet look. For the longest time, our people deemed celebrity hair styles, shine, length and Eurocentric standards, as "healthy hair."
But, that mindset is coming to an end!
African-American women and men are redefining what is "good hair" with their natural kinks and curls. "Good hair" is strong and healthy hair. Exactly how it comes out of your head!
So, what exactly is healthy hair then?
I'm glad you asked.
To get that answer, I talked to EBAN's resident expert hair stylist Bruce Johnson. Bruce is a 30-year industry veteran stylist, barber and salon owner of Avatar Salon & Wellness Spa in Silver Spring, Maryland. Bruce has worked with literally thousands of heads, which means Bruce knows hair!
Bruce took the time to talk to us about the difference between consumers' understanding of hair and how it differs from actual professional knowledge. He shares what healthy hair is from a professional standpoint: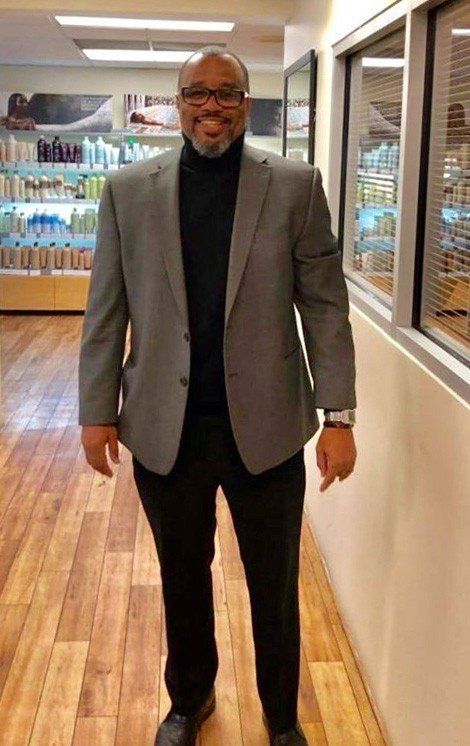 "Healthy hair is hair that's not compromised by heat or chemicals. It stays in its natural form when it grows out of the scalp and it's not tampered with in any way or…(with) any heating elements of any kind. That's considered totally healthy hair."
So ladies, in order for you to meet your "hair goals," it's important to study your natural stresses and learn what products work best for you. Starting a hair management routine is key!
Also don't forget to take your age and grade of hair into consideration. Bruce said that's very important!
"You know, the basic thing is to make sure that your hair, no matter what form it is or what culture you are, is moisturized and conditioned properly in order to maintain it's health."
"Also, from a professional standpoint, you must trim your hair properly," he added. "A lot of people think that in order for their hair to grow, it shouldn't be trimmed. It's like one of the biggest misconceptions of growing healthy hair, because once the hair strand strips from the top, it'll split quicker than it will grow from the root, so by the time they'll have long hair it'll just thin out and be uneven."
With these tips in mind, getting your hair how you want it may seem like the toughest part, but for some it's not. How it's maintained might be. There are hair maintenance tasks for any hair texture that can't be skipped to keep it from becoming damaged, according to Bruce.
"The main thing is to keep it moisturized,"
"You know EBAN has a great moisturizer, conditioner and shampoo that moisturizes hair."
Your daily routine matters, too. You may not believe it, but how you live your life can make a huge impact on your hair journey.
"For some cases, a person's lifestyle dictates how healthy or long their hair is going to be, you know with swimming, working out and different things," Bruce said. "Sometimes sweat, chlorine and sunlight can damage hair. It has to be protected and nurtured back to health from the elements as well as from heat."
In addition to moisturizing and conditioning hair properly, there are benefits to diet and exercise as well. Many people underestimate how nutrition and working out can not only work wonders for the body, but also help you grow stronger and healthier hair. A great diet and exercise routine can also impact your curl pattern, according to an article from Curl Centric.
"There's a lot of nutritious foods out here that will help hair growth…," Bruce said.
"Consuming plenty of water, exercise, eating right, and just stimulating blood circulation will cause nails and hair to grow healthy."
Keep in mind that healthy hair goals are certainly attainable but certain characteristics like length and texture do not automatically mean your hair is healthy.
When it comes down to it all though, the beauty of your hair is ultimately defined by YOU!
At EBAN, we define beauty as 'Healthy' and 'Strong'. Beautiful hair is healthy hair and beautiful hair is strong hair. We want to make sure you remember that!
We all have our challenges, but we have to support one another and share the knowledge that keeps us living bold and fulfilling lives, no matter the societal standards.
Are you on your "beautiful hair" journey? Let EBAN help you reach your goals. Check out our EBAN healthy hair products. There's no better time than NOW to live your life Loud and Unapologetically!
This blog post was brought to you by EBAN. Hair care products made exclusively for Black women who swim and sweat.