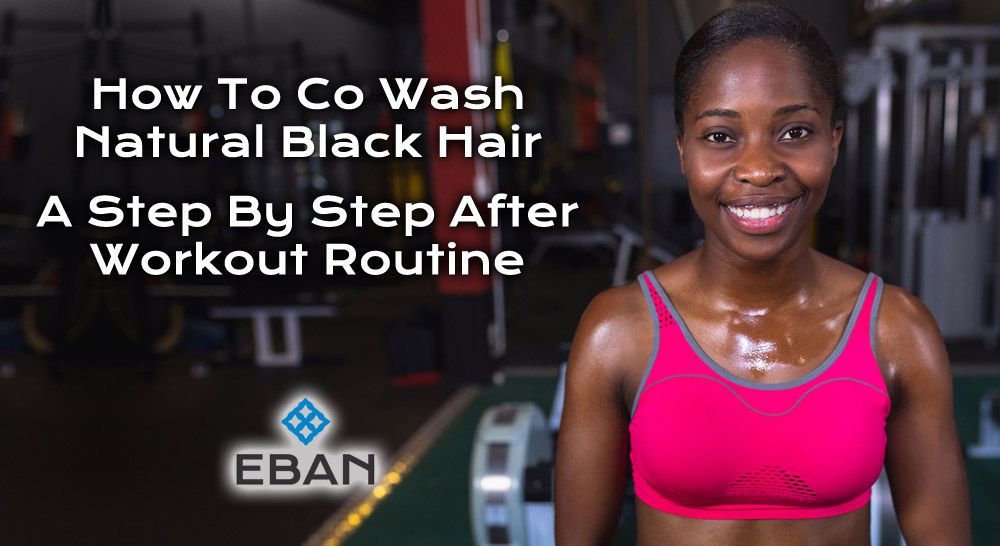 How To Co Wash Natural Black Hair – A Step By Step After Workout Routine
How To Co Wash Natural Black Hair – A Step By Step After Workout Routine
Working out is not just a way to improve your physical appearance, but it's also proven to be one of the most therapeutic ways to deal with pressure, anxiety and stress. Working out boosts your metabolic rates, your immune system and improves blood flow significantly throughout the body, and as a result, promotes healthy hair growth through the stimulation of blood vessels in the scalp.
Although working out is beneficial, still too many Naturals avoid sweating because it can make their hair nappy, smell and/or itchy. Naturals can also be conflicted about what to do when they DO workout because shampooing every day is not an option.
The answer is co washing
Co washing is an easier, more reliable way to cleanse after sweating. Not only can it be done daily, but it also has more benefits and fewer risks than shampooing if done correctly. By correctly, we mean following proper steps in order to ensure maximum co wash benefits.
Follow our step-by-step guide on how to Co wash Natural Black hair.
1. Wet hair completely
Water is a natural cleanser but isn't totally effective with heavier products. For this reason, always make sure that you saturate your hair fully for at least 2 to 3 minutes in warm water so you can first get the lighter products out of your hair. If you look closely, you may actually be able to see the products run out of your hair with the water (Perform this step before you shampoo too).
Rinsing with warm water is great because your hair will be pre-lubricated, making your co wash easier to spread throughout your hair. It also helps to keep you from using too much product!
2. Be generous with your conditioning cleanser
Before you complain about "generous" meaning "use too much product," remember that your co wash needs to coat all your strands from root to tip. This is the only way you can truly cleanse using a co wash. It's quite different from a shampoo, since shampooing focusses on the scalp, and when you rinse a shampoo you risk drying out your strands.
A co wash will cleanse and condition the strands, so it's equally as important on the scalp as the strands so use a good amount to get the job done.
3. Massage it into the scalp and distribute it evenly to the ends
This is where cleansing happens. Massaging the co wash into your scalp helps break down all the oils, debris and build-up from styling products. Remember to work it down the lengths of your hair to cleanse and condition the strands as well.
After massaging it in, let it sit in your hair for about 5 minutes before rinsing. This allows the conditioner to become fully absorbed into the hair and scalp. Finally, rinse, rinse, rinse until water turns clear and there is no more product in your hair.
4. Deep condition and leave-in conditioner should be a must
Deep conditioning helps replenish hair after a wash by returning nutrients and oils. It's a great way to make sure your hair is moisturized to the fullest. Leave-in conditioners add even more moisture and make hair easier to manage.
The best part about using these conditioners is the fact that they reduce the amount of styling products that you have to use since your hair is already as moisturized as possible.
5. Alternate with a good all-natural clarifying shampoo
Knowing how to Co wash Natural Black hair is the answer to your dry frizzy and sweaty gym hair, but it also forms build-up in hair. This is simply because a co wash is not as thorough or as stripping as a shampoo. For this reason, we recommend a once or twice a month use of an all-natural shampoo to ensure that all the build-up that may have stubbornly clung on to your hair is cleansed.
It is important to note that if your hair has too much build-up, it can be at risk of not absorbing the necessary nutrients to maintain healthy hair.
The EBAN takeaway
If you are opting for an everyday cleanse co washing is a great way to go, especially for fine brittle and thin hair. Be gentle when detangling and styling though. For more protection, perform finger detangling and use styles that don't need too much time to take down.
After washes avoid drying with a cotton towel as it can snag and pull your hair causing breakage and frizz. Instead, wrap it in a t-shirt or let it air dry. Also, remember to take care of your hair when you sleep with a good satin bonnet or scarf. Good luck!
EBAN's Mission
Follow our
"Complete Guide to Co Washing with Natural Hair"
series as we demystify co washing, explore it's magical possibilities and help you take advantage of this hidden gem in your beautiful and healthy hair journey. We'll also be featuring other hair care routines and information in order to help you
receive the benefits of exercise AND the benefits of healthy hair
. Our mission at EBAN is to help you live your
Loudest and Most Unapologetic Life!