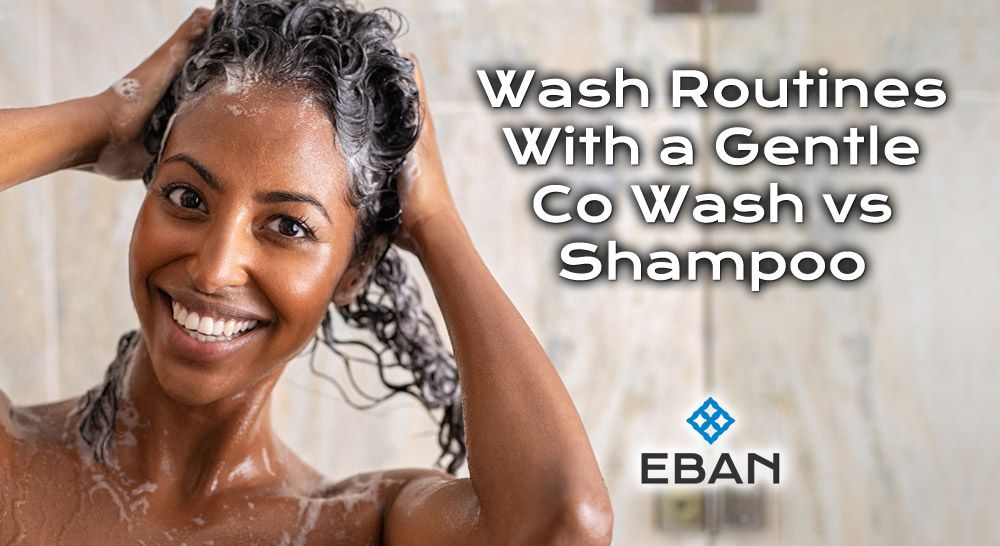 Wash Routines With a Gentle Co Wash vs Shampoo
Wash Routines With a Gentle Co Wash Vs Shampoo
Co Wash Vs Shampoo
Wash days can be the most stressful, hectic yet fulfilling experiences for any Natural. A normal wash day can involve a standard all-natural shampoo, deep conditioner, leave-in conditioner, oils and butters. Traditionally, this was a good process because the sole purpose was cleansing and styling to avoid over manipulation. The idea of using shampoos on wash day had been more than welcome in the natural hair community for years but we know now that there are several factors that cite hair damage as the major reasons why Naturals now opt for alternative cleansing solutions.
The invention of milder yet better shampoos free from sulfates, GMOs and Parabens is a great breakthrough but doesn't completely solve the stripping effect we must avoid. Yes, there are moisturizing shampoos but frizz and dryness remains a problem, and honestly, it's not advisable to use a shampoo daily no matter how moisturizing it is, because of the loss of protein that comes along with it.
Gentle co wash.
Co washing is the ideal and most realistic way to cleanse hair on a daily basis. The full process involves the co wash itself, deep conditioner, leave-in conditioner and oils and butters. Before you say the process is pretty much the same, remember that a co wash (replacing the shampoo) provides a gentle cleanse but also aims at making hair healthier by leaving it moisturized longer.
There have been misconceptions about co washing for some time with Naturals feeling reluctant to deep condition after a cleanse. You could always choose not to deep condition, depending on how well you know how moisturized your hair tends to be, but we would highly recommend that you use a conditioner after every co wash.
Why should you deep condition after co washing?
The answer is quite simple. Deep conditioning is so that you can fully maximize the retention of moisture in your hair. How? Well, deep conditioning aims to cure or replenish nutrients and oils from the hair and scalp lost after wash. In case you are thinking, "but I'm using a co wash and it doesn't really strip." In some ways you are right, in other ways maybe not.
A co wash may be mild and gentle but it does cleanse nonetheless. It may not completely strip oils and moisture but it has enough surfactants to cleanse the scalp and hair of dirt, debris and styling product build up. Hair is left clean and moisturized but not moisturized enough. It will become dry if not fed more moisture.
Don't forget, deep conditioners should always follow a wash in every Natural's weekly (or so) routine. Especially in the case of natural Black hair as it is the driest of all hair types. In cases of an every day wash, you can opt out of a deep conditioning routine and use a regular conditioner but remember to follow it up with a leave-in conditioner as well.
Oils, butters and styling.
Oils and butters are used to seal in all the moisture and goodness in our hair. When it comes to co washing, especially if it is an every day co wash, opt for lighter oils to avoid accumulated build-up and to lessen the co wash's load of cleansing. A co wash is a great cleanser but works best with a little help.
Avoid products that are too heavy and contain petroleum because it is going to be VERY difficult to cleanse them out. We have a rule, "don't wash your hair if it hasn't dried from your last wash yet."
Protective styling.
Styling is as versatile as every Natural. Not only are styles beautiful, they also serve as a great way to hide your hair from manipulation and damage. If your hair doesn't need cleansing after every workout, choose a style that can last for as long as possible. It can last a couple of weeks to a month depending on your hair style and your preference. Protective styles are a big help for hair growth and retaining length.
If you are constantly cleansing your hair, like after exercising or swimming, choose a style that can be taken down easily without straining the shafts. Simple cornrows, two strand twists and even wigs are great because you stay protected but still have access your hair when you need to.
Check out 8 Bulletproof Hairstyles For Your Next Gym Session
The EBAN takeaway
The co wash vs shampoo question is being asked more and more everyday. The answer is that Co washing is more effective that shampooing and is a more reliable way to create a regular habit of cleansing your hair and scalp. Don't forget that co washing does create build up (albeit not the same as chemical products) as it adds moisture instead of stripping it. Remember to stay balanced! Use a healthy all-natural shampoo about twice a month to ensure that your hair stays properly cleansed, healthy and moisturized until the next cycle.
EBAN's Mission
Follow our
"Complete Guide to Co Washing with Natural Hair"
series as we demystify co washing, explore it's magical possibilities and help you take advantage of this hidden gem in your beautiful and healthy hair journey. We'll also be featuring other hair care routines and information in order to help you
receive the benefits of exercise AND the benefits of healthy hair
. Our mission at EBAN is to help you live your
Loudest and Most Unapologetic Life!